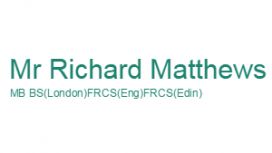 Mr Richard Matthews is a highly experienced Consultant Cosmetic & Reconstructive Plastic Surgeon who aims to provide a Gold Standard of care.
At school, he studied Arts but, like his father who was also a distinguished Plastic Surgeon, was drawn to Medicine. After qualifying as a Doctor at St Thomas Hospital Medical School in London, Mr Matthews trained widely in General Surgery, Orthopaedics, Urology and Paediatric Surgery before commencing his career in Plastic Surgery, progressing through 5 Regional Centres for Burns & Plastic Surgery, absorbing the art and craft of cosmetic and reconstructive plastic surgery. This included 2 years as Burns Research Fellow at the renowned Queen Victoria Hospital and Blond-McIndoe Research Centre at East Grinstead, during which he had notable papers published on the management of burns in pregnancy and the use of amniotic membranes for wound healing.
---
Contact Details
R N Matthews
Nuffield Health Warwickshire Hospital, Old Milverton Lane, Blackdown
Leamington, Warwickshire
CV32 6RW
Get Directions
Show map
Reviews and Ratings
James H, Irlam, Greater Manchester
Mr. Matthews operated on me this past March. The operation was for correction of a previous chin surgery which left excess soft tissue on my chin as a result. I'm not sure how, but my chin actually looks worse now after Mr. Matthews's procedure than it did before. I suspect he removed subcutaneous tissue mostly, but removed little actual skin, and the result was even more lax loose skin on my chin now. I sent Mr. Matthews several published peer reviewed papers before the surgery on performing this, but he actually just brushed it off and went by his instincts, as in his words, those from "his generation" do. Immediately upon completing the procedure I asked if he removed much skin and his response was "I had to be careful not to remove too much"... unbelievable.

The procedure was performed under a local anesthetic injection, rather than IV sedation putting me to sleep. In fairness, Mr. Matthews gave me the option of either local or IV, and I foolishly chose local to save money and have less lingering sedation, but the problem with that was that local anesthetic causes swelling, making it very difficult to appreciate the tissue and accurately remove what was intended. Again, my fault for choosing this, but Mr. Matthews as a consultant plastic surgeon should have known and mentioned that it could affect the results.

Another thing that was not done for recovery after this surgery was insertion of a suction "grenade" drain, which is used after many many surgeries to help alleviate the swelling. This wasn't even mentioned, and as a result I experienced prolonged swelling, and worse, over a week worth of substantial bleeding from the suture site (I literally experienced zero bleeding after my first chin surgery where these were used). These are standard practice (along with compression garments) for many plastic surgeons, but neither was used or recommended here. That shows a severe lack of attention to detail, not what you want in a plastic surgeon.

Nuffield hospital itself was a very nice facility, but I would advise making serious inquiries before elective cosmetic procedures with Mr. Matthews (or any other surgeon, for that matter), especially with regards to the face, the one area which cannot be covered up. I can say that the outcome of my chin procedure was poor, and I don't feel "optimal" recovery procedures relevant to the surgery were implemented. I suspect that the procedure I went in for wasn't one in which he had no experience in before, but went ahead and did it anyway.

Speaking generally, before cosmetic surgery, read reviews and see before and after pictures of patients who have had similar procedures with the surgeon you are considering. If possible, try and see a surgeon who specializes and concentrates their practice performing procedures for that area, chances are, a surgeon that mostly does facial procedures, or mostly breast procedures, mostly body procedures etc. is going to be more skilled than one who is does a little bit of most everything. This may require traveling (I'd highly suggest traveling to actual London, or even to the US), but it would be worth it to have the procedure done right, rather than needing another revision later (like I do now).